The MadMuscles app is designed to make your journey towards your goal easy and effective. It's almost like your personal coach that guides you step-by-step, reminds you of what's next, and ensures that you spend the right time on training and that you consume enough calories.
Our workout plan was created to ensure a balanced testosterone/cortisol ratio. Both cortisol and testosterone levels increase linearly in response to physical exercise. However, it is vital to consider them to reach a specific threshold of exercise intensity. Otherwise, physical stressors can result in excessive cortisol secretion, which decreases testosterone production.
Our program is designed for men, but women who want to get shredded or bulk up are welcome to join.
So, let's imagine you download the app and enter the PIN code sent to your email. What's next?
Let's explore together!
Your program
Go to the My Program tab in the app to check your workout for today.
You can also take a look at your plan for the whole week. Just tap 3 horizontal lines in the upper right corner, then select Workout schedule: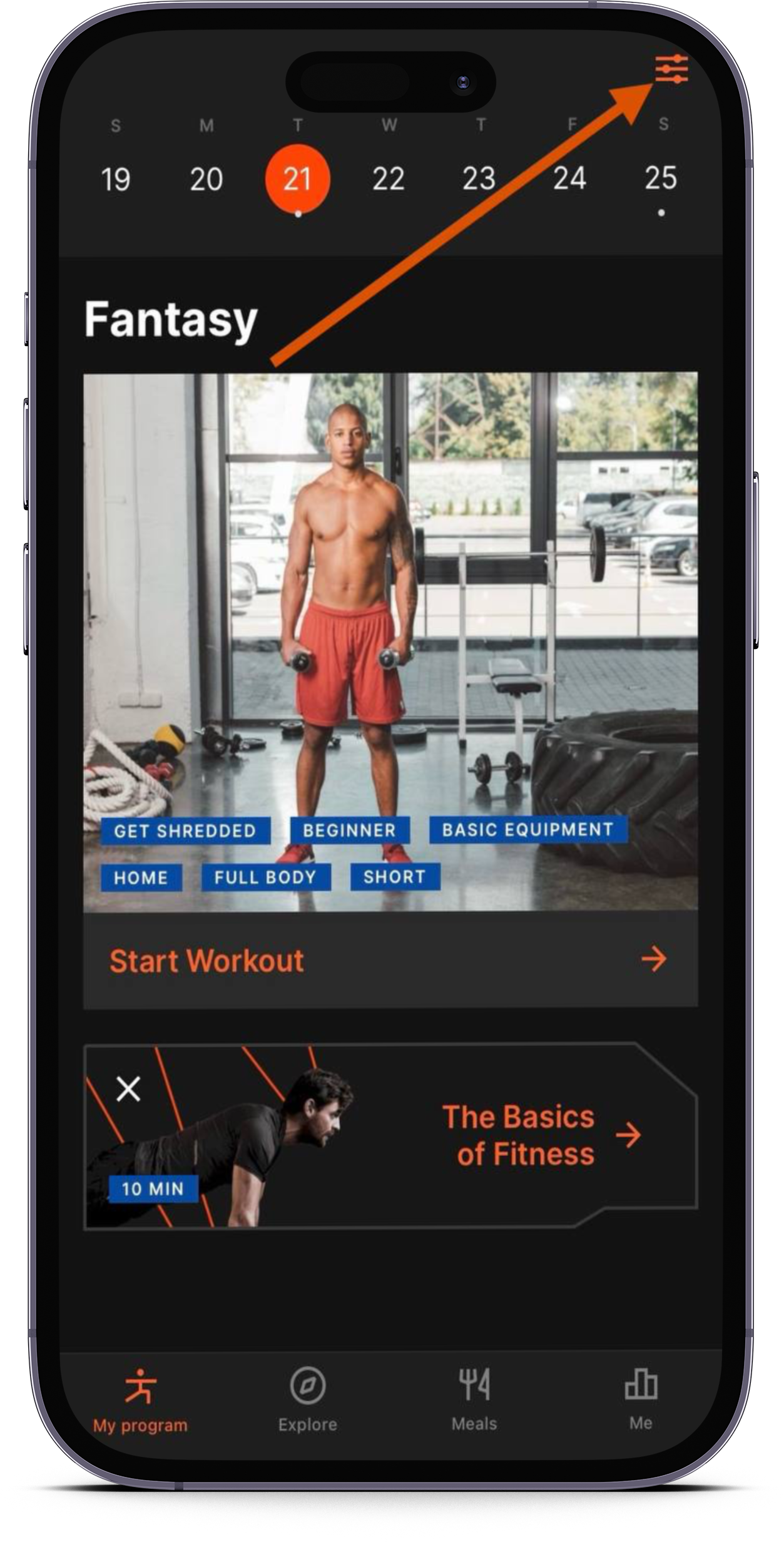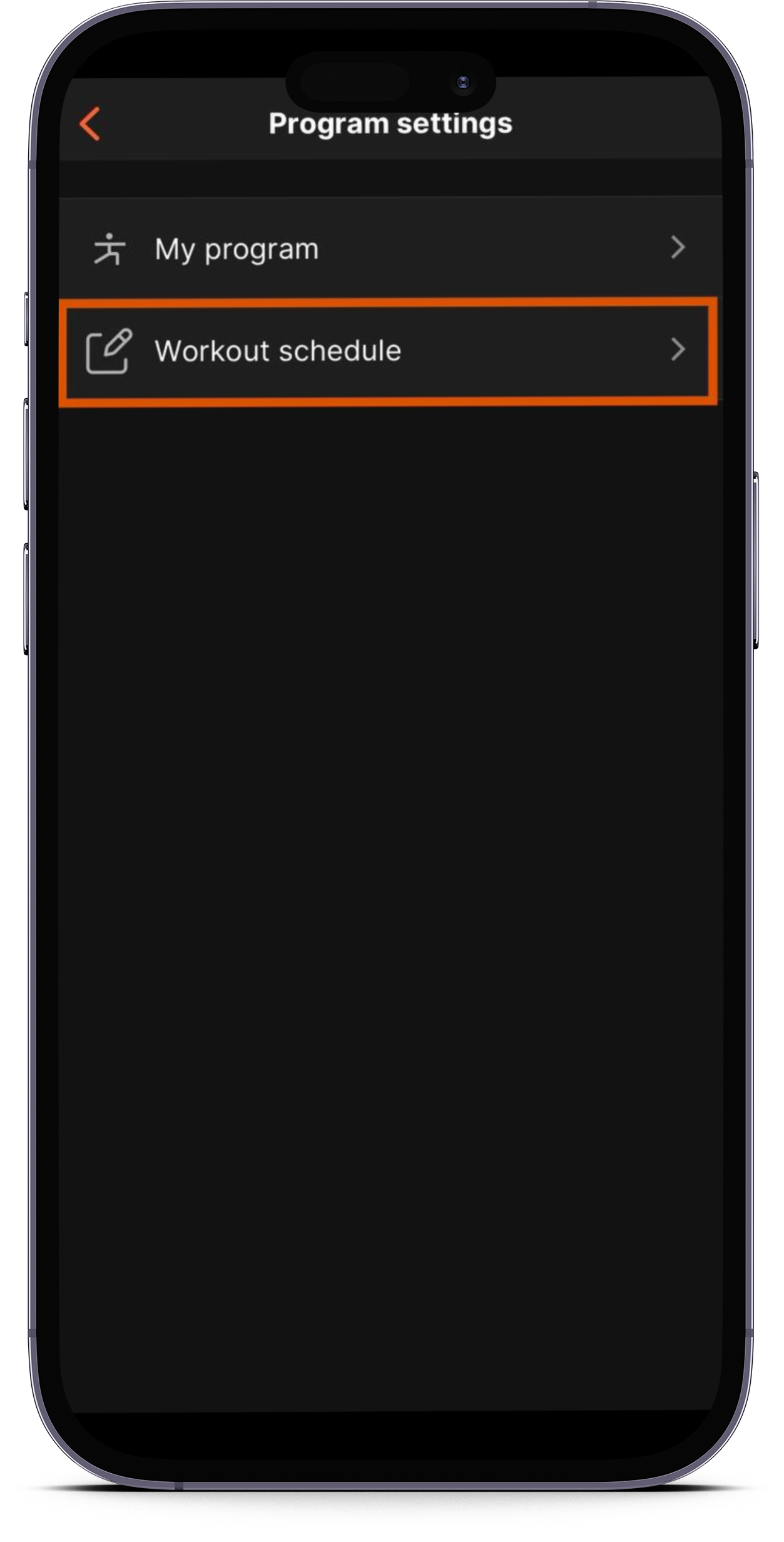 By clicking Start Workout you can see:
the equipment you need for today's workout;
the time your whole workout will take;
what body part will you be working on this time;
list of exercises your coach has chosen according to your goal and preferences.
Each exercise has not only a video but also step-by-step instructions on how to do everything properly.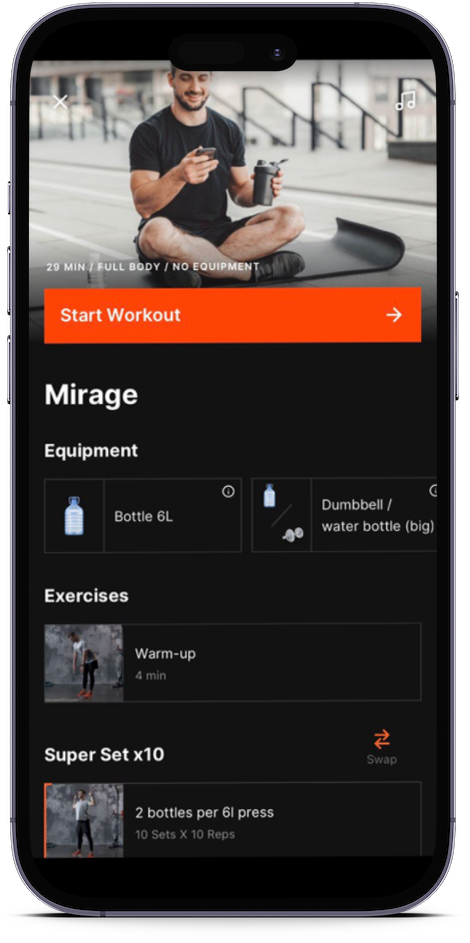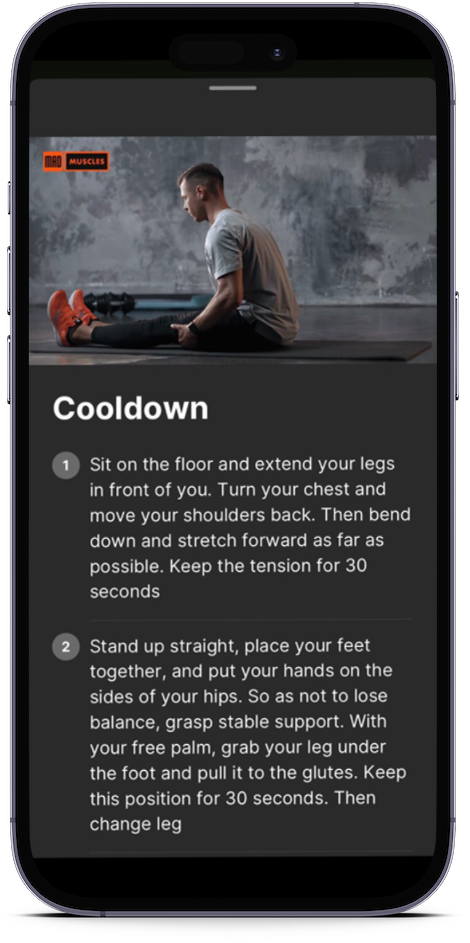 The "Explore" tab
This tab is designed to show you the lists of possible challenges and workouts you can get known with and try.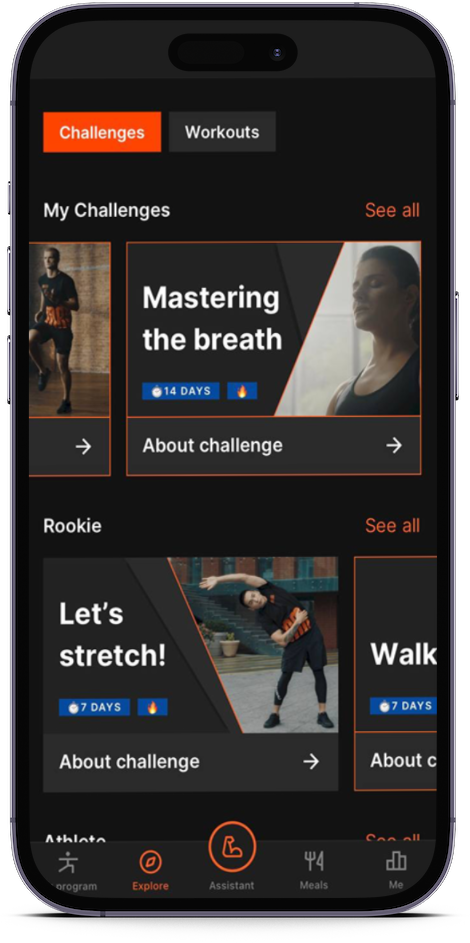 Challenges
The tab Challenges shows your active and finished challenges that can help you maintain a healthy lifestyle.
Here, you will find more information about this feature.
Workouts
Curious about some other training we have? Navigate to the Explore tab to see what MadMuscles has to offer.
All exercises are divided into sections based on our users' goals (Gain Muscles. Weight Loss, Get Shredded), but you can also filter them by difficulty level, length, and some other characteristics.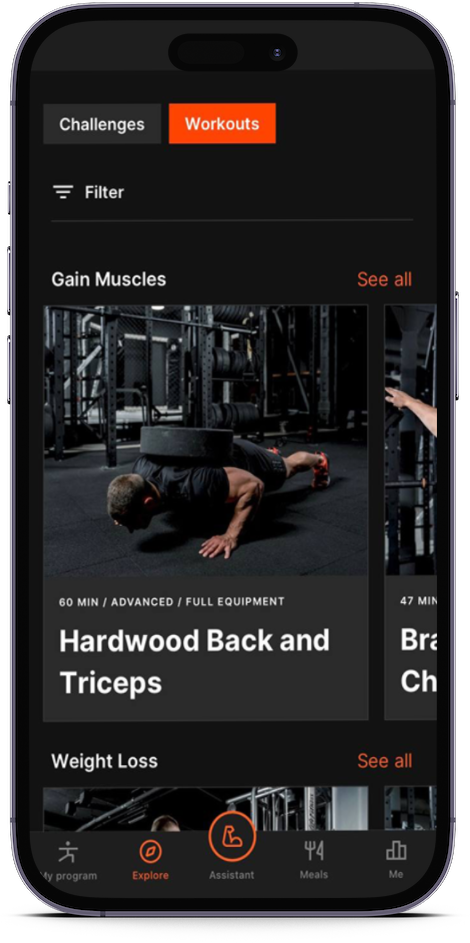 Your personal meal plan
Good nutrition is extremely important; it ensures that your workouts are effective and you have enough energy to complete them.
You can check your personal meal plan in the Meals tab. It usually consists of Breakfast, Lunch, Dinner, and 2 Snacks.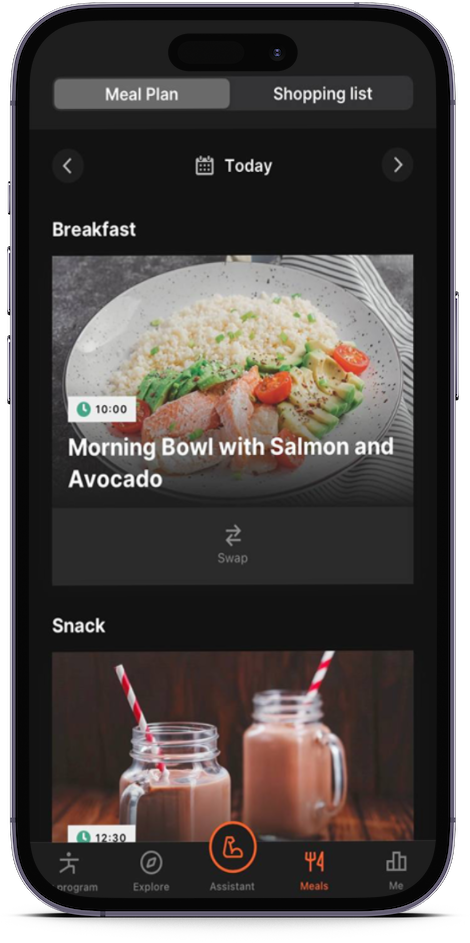 The Meal Card has detailed information about the meal's ingredients and instructions on how to prepare it.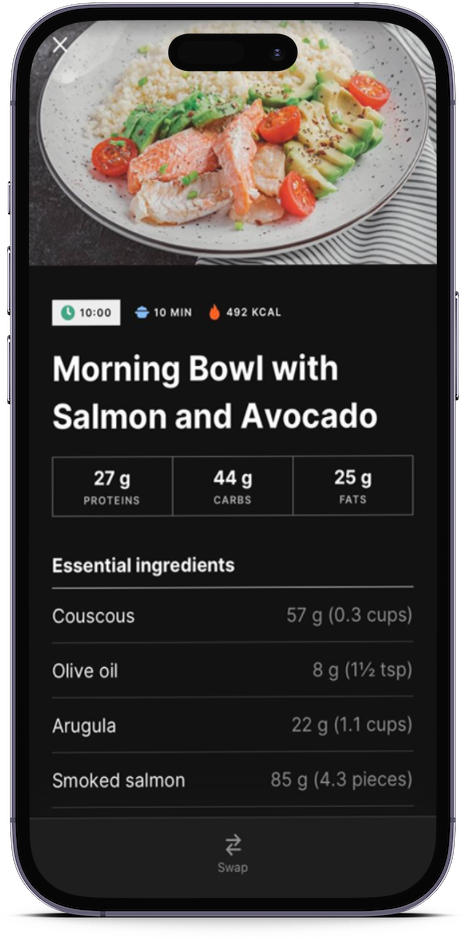 Only like some dishes a little? No problem, simply Swap them!
Once you are satisfied with your meal plan for the week, go to the Shopping list. Here, you can find all the products you will need for the current week, split by their type (Dairy, Fruits, Grains, etc.).
Progress tracker
Let's say you follow your weekly plan: do the workouts, log your weight, and consume the daily calorie norm and water intake. Where can you see how it is all going?
Go to the Me tab. Here you'll have:
The number of workouts you completed and the time you dedicated to them;
You can also check a summary of your progress in the progress history section or on the graph for a specific period.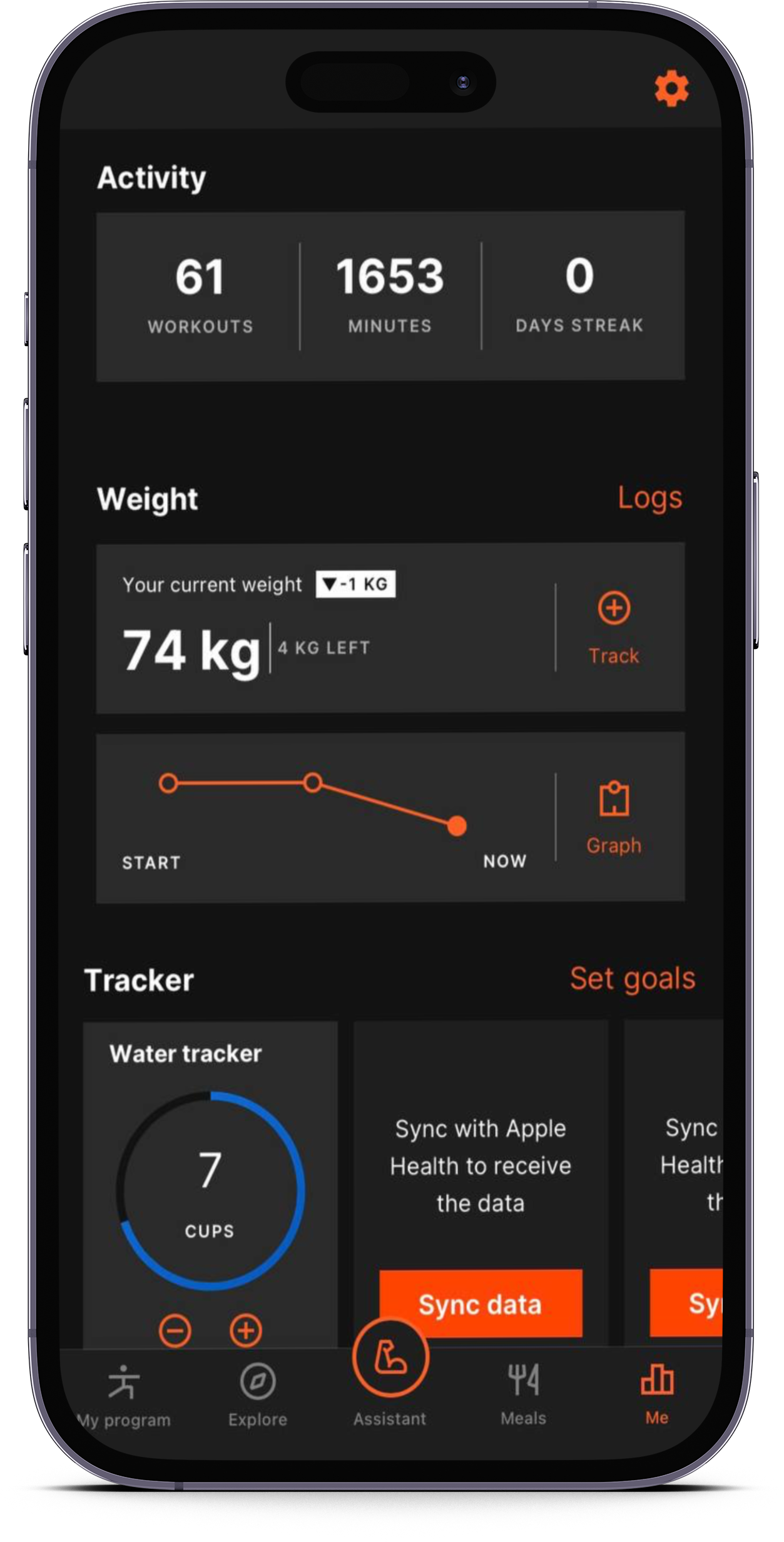 Don't forget to log your weight here for a more detailed overview of your progress.
Want to know more about using the app? Explore each feature in more detail in the separate articles.